Introduction
‍Using a portfolio tracker is a great way of keeping up to date with your finances - the best ones will use open banking to track the status of your investments in order so you can know in seconds how they're all doing without logging into individual platforms or checking valuations. There are a variety of different portfolio trackers out there, each with its own unique features. It can be tough to decide which one is right for you.
One problem is that there have never been more different asset classes to invest in, most recently cryptocurrency and NFTs. So far, there hasn't really been much available in the way of a portfolio tracker for stocks & crypto. Given how important the latter is becoming as part of even a risk-averse portfolio, we thought we'd take a look into what options you have available to you and what factors to consider when making a choice.
Portfolio Trackers & Their Utility
A portfolio tracker for stocks & crypto can be a great tool for you to stay on top of your investments. Crypto and alternative investments are slowly taking up a larger portion of the average millennial's portfolio than it did a few years ago. With that, it'll be important to view both traditional and alternative assets holistically so that you can better manage your overall finances.
With this in mind, we went ahead and discussed five of the best examples of a portfolio tracker for stocks & crypto and even more to help you decide which one to choose.
Strabo
As you may have guessed, Strabo is a portfolio tracker for stocks & crypto as well as real estate, and a multitude of different assets. Users can automatically link their accounts as well as manually input their investments.
Users can also customise their dashboards to their own unique needs. This allows you to build multiple dashboards for different use cases (i.e. One for you, one for your kid, one for your crypto, etc).
Additionally, we provide access to over 10,000 institutions across 12 different countries. So if you're an expat or a global investor in 2 or more countries, then Strabo is the choice for you.
We're currently in a closed beta group with exclusive users and plan to publicly launch in Q2 of this year. So sign up to our waitlist here and be one of our first early users to test out the application!
Excel & Google Sheets
‍Excel/sheets are the classic go-to tool to keep track of all your financial matters. It's flexibility allows users to organise date whichever they seem fit. While it still requires manual inputs, it has come a long way. Developers over the years have also built useful plugins to help you better track your finances. Some of these include: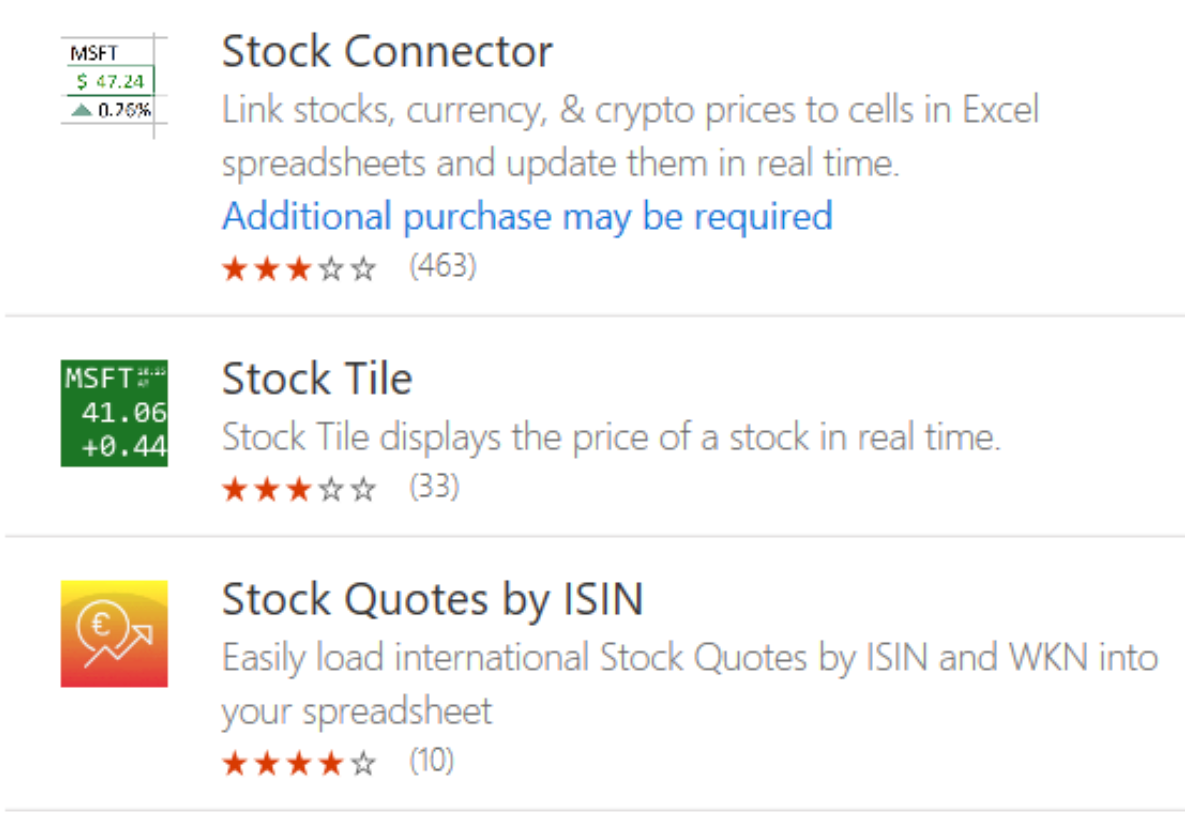 For crypto: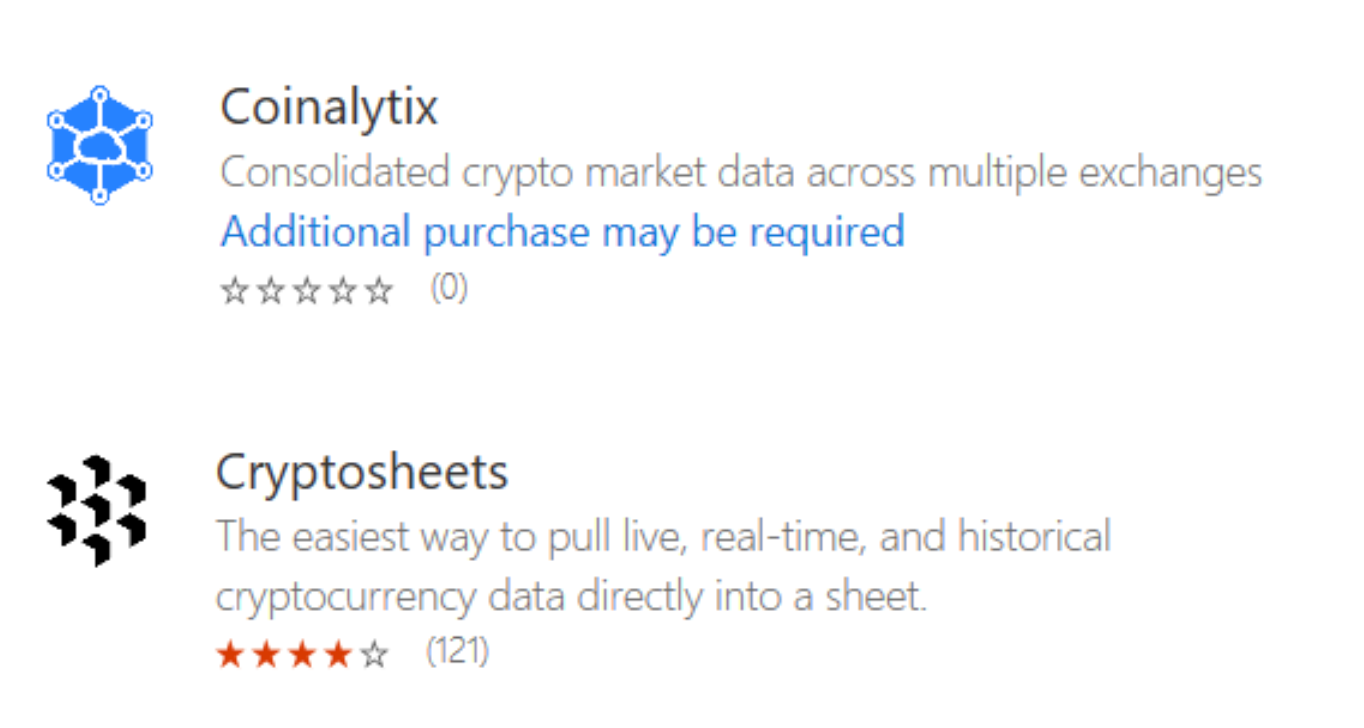 By installing a few of these plugins, you'll be able to receive live market data on your favourite assets.In addition, google sheets have made recent improvements in this field.

They released a function (=GOOGLEFINANCE) that allows users to automatically pull stock, etf, and bond prices onto their google sheet. Similarly to the excel plugins, you can get a wealth of data pulled onto your sheet in real time or at least close to it.
With these tools and some intermediate excel knowledge, you can definitely build a unique portfolio tracker for stocks & crypto.
Delta App
Unlike excel/sheets, Delta app is a mobile application that allows you to track both your stocks & crypto investments. It is more geared toward crypto, but it does allow you to track many of the most popular US stocks traded on the NYSE.
While it provides great data and updates on crypto, it does lag a little behind when it comes to tracking mutual funds or commodities. Nonetheless, it's a nice mobile native application thats easy to use.
They offer a freemium and subscription option and a solid solution for you to keep track of your portfolio while you're on the go.
Yahoo Finance
Yahoo offers the widest range of data in order to provide an optimal portfolio tracker for stocks & crypto. They are a lead player in the finance world, providing world class news and data to users for decades.
I think what sticks out the most from Yahoo Finance is the quality of data that it provides on multiple assets, including crypto. You can link multiple broker accounts and conduct some good deep dives in to multiple investments.
While it's the definite leader in terms of market data, the ads and promotions does make it a little unenjoyable and distracts you from your key objective: tracking your stocks & crypto.
Overall, it is a credible resource and a tool that is not going anywhere anytime soon.
Wallmine
‍This tool is geared more for the advanced retail investor. It pulls live data and real time news so you can stay up to date with your investments. There's a lot of visualisations and interactive charts to satisfy your data hunger needs.
It is free to sign up and they state that their tool is used by analysts at some of the worlds biggest banks (Citi, BOA, Credit Suisse).
While the website can use an update, imo, what really matters is whether they're able to provide a portfolio tracker for stocks & crypto that helps you track and manage your finances. And this, they do.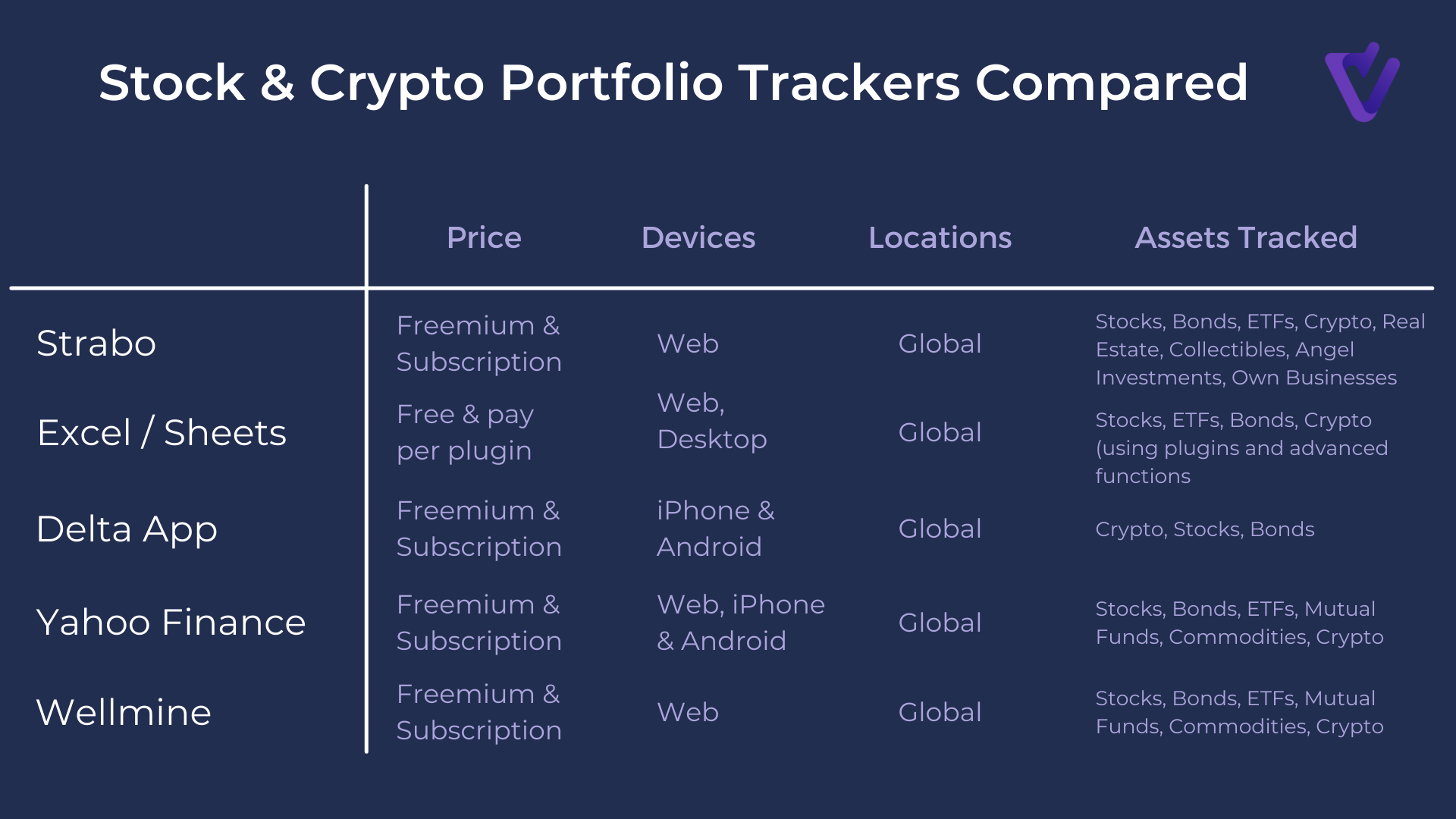 NFTs - Can You Track These Too?
‍NFT's are making waves with celebrities, large companies, and athletes all joining in on this wild trend. We as a team are very interested in NFT's and see the massive opportunity they can provide to commoditize online assets, protect ownership, and secure transactions.
While the current wave of NFT is geared more towards art, there is greater utility to be realized with this new technology.
As with all new things, it'll take time for portfolio trackers to start tracking NFT's. But it is something that we are highly considering here at Strabo.
Conclusion: Some Final Thoughts on a Portfolio Tracker for Stocks & Crypto
Overall, portfolio trackers for stocks & crypto can be great tools for you to manage your investments. Whichever you choose, ensure that it can cover all of your current assets as well as accommodate future assets you think you may acquire in the future such as real estate or your first NFT. We're focused on building a portfolio tracker to suit all of life needs and look forward to bringing our product to market for you eager investors.